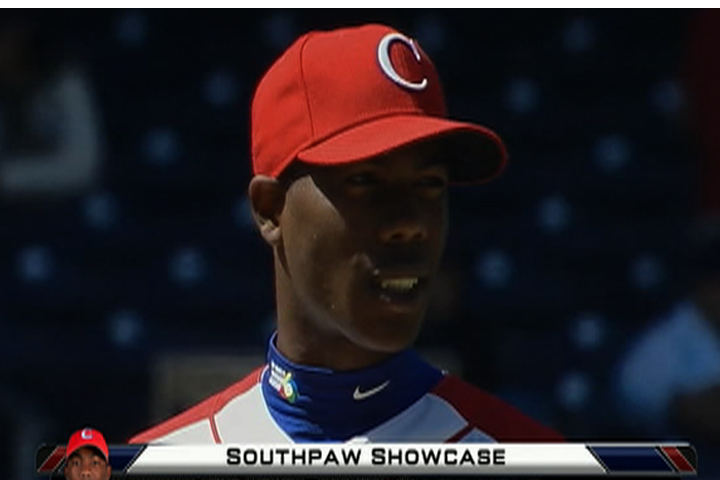 Heralded Chapman works out for MLB scouts
Cuban phenom impresses while agents battle in court
By Gene Duffey / Special to MLB.com
12/15/09 7:27 PM EST
HOUSTON -- Aroldis Chapman, the unsigned 21-year-old pitcher from Cuba, had a busy day Tuesday.
First, he threw a bullpen session in the morning for about 50 Major League scouts, impressing them with his size and velocity. Later in the day, Chapman's original representative sued his current agent in Massachusetts state court.
"The kid's got a great arm," Houston Astros general manager Ed Wade said of the 6-foot-4 Chapman. "He's a physical specimen. He's left-handed. He throws hard. Obviously, anybody would be interested in an arm like this. He's got some great stuff. The early feedback from our guys, and everybody else, is he's a tremendous talent."
Chapman defected from the Cuban National Team on July 3 while competing in the World Port Tournament at Rotterdam, The Netherlands. He signed with Athletes Premier International, the company of agent Edwin Mejia and later with veteran sports agents Alan and Randy Hendricks in November. In Tuesday's lawsuit, Mejia accused Hendricks Sports Management of illegally interfering with [his company's] relationship with the pitcher. Mejia has said Athletes Premier International] had spent hundreds of thousands of dollars on Chapman's behalf.
Randy Hendricks did not immediately respond to an e-mail from The Associated Press seeking comment.
"He's a hard thrower from the left side," said David Lakey, national cross checker for the New York Mets. "I think they said [he hit 96 mph]. That kind of arm is hard to find from the left side."Chapman reportedly reached 102 mph at the World Baseball Classic
in March, though he did not pitch effectively.
Chapman threw for about 15 minutes Tuesday in a closed workout at Baseball USA. No media was allowed.
"This is all by invitation," Hendricks said. "A couple of teams didn't make it because of airport delays."
One National League scout was asked what impressed him the most about Chapman.
"His fastball," he replied. "He's got it. He was bringing it."
"He wasn't throwing as hard as he can, but he threw well," said Eddie Bane, director of scouting for the Los Angeles Angels. "It was a good bullpen. ... It's great that the Hendricks brothers put this together, because we needed to see him. Almost everybody in baseball was here."
Randy Hendricks stressed that Chapman, who does not speak English, was not throwing with his ultimate velocity.
"He didn't throw all out, which we told the teams he would not do," Hendricks said. "I think it was important that he demonstrated that he's ready, he's in shape, that he can throw free and easy, which is what he did. A lot of life on his pitches. He threw real well. I think it was sufficient to let everybody know he's ready for primetime. He looked comfortable as could be. He looked fluid. All the teams I talked to were really impressed. Just free and easy is what I heard.
"The useful part is it gives teams a chance to see him now, up close and personal. They've seen him in international competition on videotape."
Chapman showed the scouts a changeup and slider as well as his fastball.
Whether Chapman is ready to pitch in the Majors next season is still to be determined.
"We need to do more digging," Bane said. "When we signed Kendry Morales out of there a few years ago as a hitter, I was able to spend a week with him in hotels. We do our homework. We've seen Chapman pitch in the past in international stuff. With pitchers, you never know. They can get hurt. He's got big league stuff."
"I'd be more inclined to pay attention to his body, his work and the information we've got before we came out here versus what you see in a workout," added Wade. "I don't want to get into projections. He might pitch Opening Day for somebody."
"I think it's fair to say most teams think he's ready talent-wise," Hendricks said. "The question is, can he walk right in in 2010 or does he need a little time to become more refined?"
The Astros were there in force, with assistant general manager Bobby Heck, national cross checker David Post and coordinator of amateur scouting Mike Burns joining Wade.
"It was important for us to be out here, being in our backyard," Wade said. "I have seen lots of side sessions over 33 years. You judge guys by their bodies of work and scouts who have seen guys multiple times in competition. If we were going to get involved with a guy like this, we'd make sure we had a lot of information and not just something based on a side session."
Lakey compared Chapman with Brien Taylor, the No. 1 Draft pick of the New York Yankees in 1991 who never made it to the Major Leagues.
"I'd have to see him in a game," Lakey said. "You get a feel for the body [today], the arm action, the delivery. His mechanics look OK."
After his first attempt at defection was unsuccessful in 2008, Chapman had no problems fleeing his native land this year.
"I walked out easily, right through the hotel door, and I hopped into a car and left," Chapman told cubaencuentro.com at the time. "It was easy. Now the plan is to sign with a Major League team."
He met with the Red Sox, Yankees and other teams in October, and Boston has reportedly offered him $15.5 million, according to ESPN's Jorge Arangure.
"We're going to meet with some teams one-on-one for them to get to know him better," Hendricks said. "After that, we'll start moving toward trying to make a deal with somebody. We've been treating him like an extremely good prospect who is mentally tough and determined to pitch in the Major Leagues."
Chapman lived in the tiny country of Andorra, between France and Spain, after defecting,
before moving to Florida.
"He's working out like any professional Major League player would do in the offseason, getting ready for next year," Hendricks said. "He's doing core work, strength and conditioning, long tossing, running."
Gene Duffey is a contributor to MLB.com. Jesse Sanchez contributed to this report. This story was not subject to the approval of Major League Baseball or its clubs.