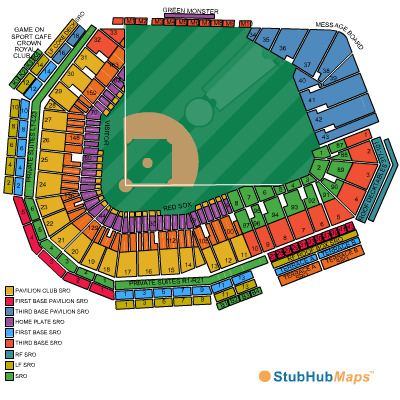 Seating Notes:


All tickets not specified with a section name AND number by the seller may not appear in the map.

Tickets for this venue should not be listed by section number only.

Grandstand sections 32 and 33 are designated Alcohol-Free Family sections. No alcohol is permitted in these areas.

Standing Room Only Sections must be designated as RF Roof Deck SRO, Green Monster SRO, Pavilion SRO or general Standing Room Only in order to appear in the ticket listings. SRO locations are not shown on the map. Availability is only indicated in the legend.

Fenway Park makes a designation between Bleacher and Upper Bleacher seating that is not accounted for in our ticket listings or seat map. Buyers may receive tickets that read either Bleacher or Upper Bleacher when ordering tickets listed by StubHub as Bleacher.

Kids:
The Red Sox do not offer half-price discounted tickets for children. If a child is under 2 years of age, you need
not
purchase a separate ticket for him or her to attend a Red Sox game at Fenway Park. Children 2 years old and older are required to have a separate ticket.
General:
No inflatable objects of any kind, alcoholic beverages, bottles, cans or personal firearms will be permitted in the ballpark. Any fan who directly or indirectly interferes with the enjoyment of the game will be promptly ejected from Fenway Park and may be subject to arrest and prosecution by the Boston Police. Fans are also reminded that anyone observed with offensive articles will be promptly ejected from the park. Such conduct is reprehensible and will not be tolerated. Disorderly behavior will result in appropriate action by the Boston Police. The club is committed to maintaining a high level of morality and denounces all forms of misconduct. The Red Sox will continue to make every effort to ensure socially acceptable behavior in order to allow all fans to enjoy the game in comfort.
Address:
Fenway Park
Four Yawkey Way
Boston, MA 02215
Will Call:
Will call tickets are available beginning two hours prior to games at Gates A, B, C and E. The kiosks in the Ticket Office Lobby, Gates A and B, can also be used. No third party drop-off is accepted.
Directions:
If you are driving to Fenway Park, keep in mind that typical backups on local streets begin about one hour before the game. Traffic delays are especially common in the following locations: Brookline Avenue, Beacon Street and Commonwealth Avenue approaching Fenway Park, Storrow Drive from Leverett Circle to Kenmore Square. Note: There are vehicle height and truck restrictions on Storrow Drive. Buses, trucks and tall recreational vehicles should use the directions for buses to avoid Storrow Drive.
Parking:
Parking is extremely limited around Fenway Park. The Red Sox strongly encourage all fans to take public transportation to the game.
Transportation:
Fenway Park is conveniently located in the center of Boston, within walking distance of public transportation, including the subway system offered by the Massachusetts Bay Transit Authority (MBTA). For more information, visit the MBTA Web site or call MBTA Customer Service and Travel Information at 617-222-3200 or 800-392-6100; TDD, 617-222-5146.
Information provided by StubHub!